Correction, Editing, and Translation Services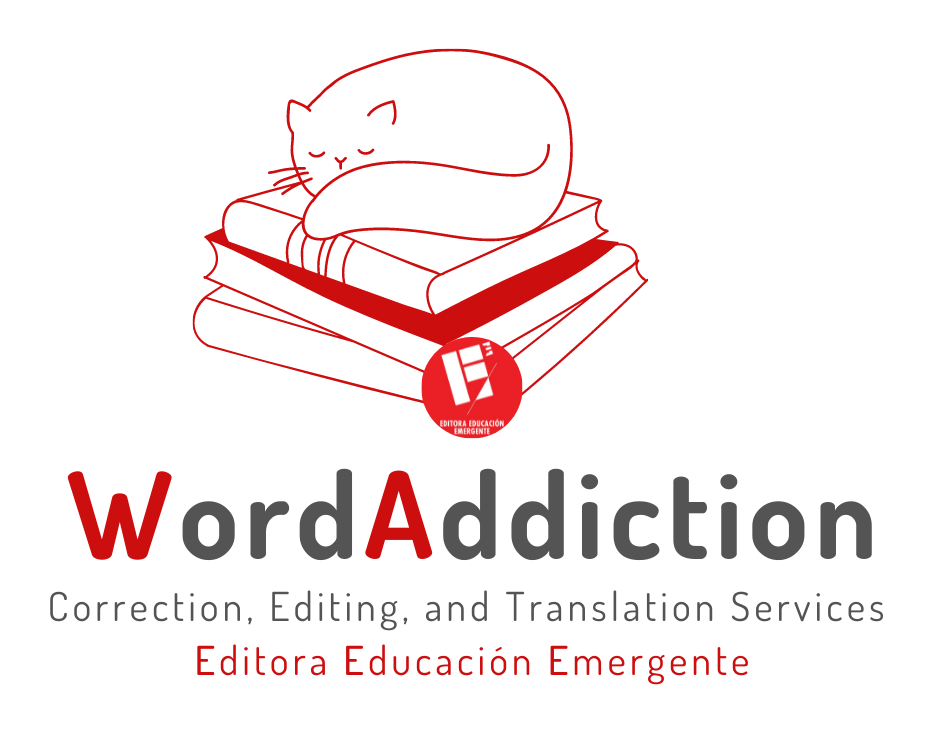 WordAddiction offers diverse correction, editing, and translation services for multiple materials (texts, documents, reports, and projects).
TYPES OF MATERIAL
SCHOLARLY
Specialized scholarly and academic texts, documents, or projects (essays, edited collections, individually or collaboratively authored books). For scholarly and academic publications, we can work with the following style manuals: MLA, APA, Chicago, and BlueBook.
cultural, artistic, and humanistic areas and fields
social sciences
pedagogy and education
law
others
CREATIVE, JOURNALISTIC, AND OUTREACH-ORIENTED
Creative, journalistic, and community and activism outreach-oriented texts, documents, or projects.
all literary-creative genres (fiction, non-fiction, poetry)
journalistic materials and pieces
reviews
op-eds
outreach material produced by individuals, organizations, or collectives working on social justice, civic engagement, popular/community education, and the arts (examples include video scripts, texts for consciousness-raising, outreach, media, and social networking campaigns)
others
PROFESSIONAL AND ADMINISTRATIVE
Texts and documents required for processes related to professional development, sociocultural and activist production and administration, and creation-related management.
CVs / resumés
statements of purpose
artist statements
professional letters (of presentation, of intent, of job application, of invitation)
other documents required for job applications in the above areas
reports (individual or organizational) by/for foundations and other financing sources with emphases in areas of social justice, civic engagement, popular/community education, and the arts, among others
proposals and applications (individual or organizational) for funding in areas of social justice, civic engagement, popular/community education, and the arts, among others
others
---
TYPES OF SERVICES
CORRECTION AND EDITING
PROOFREADING AND COPY EDITING
Proofreading and copy editing entails the final correction of any type of document before it is published or divulged (final draft). This kind of editing presupposes that the text's contents, style, and format require no attention or modification. Only elements associated with orthography and wording are corrected, as follows:
punctuation
spelling
syntax
consistency
sentence- and paragraph-level structure
others
CONTENT AND STYLE EDITING
This kind of editing, which in itself entails proofreading, profoundly polishes all elements associated with research, writing, format, expression, and style, before you consider publishing or divulging your project. It presupposes that the material received is an early, rather than a final, draft. The following are some of the elements that this type of editing revises:
data and source verification and cross-check
engagement with and presentation of evidence
editing and correction of contents

fluidity, coherence, structuring, and ordering of ideas and arguments for the achievement of desired effects

editing and correction of style and expression
correction of format, as required by the publication venue
correction of elements associated with style manual (for scholarly texts)
others
DEVELOPMENTAL EDITING (ALSO KNOWN AS BETA READING OR CRITIQUE PARTNERING)
This kind of editing implies that the text or project is at a preliminary stage, and the author/s, artist/s, producer/s need/s an external voice to serve as a critical companion during all, or some, of the phases of the project's development. As the case may require, developmental editing can entail assistance with tasks related to:
conceptualization and design
performing primary and secondary research
data processing
creative decisions
development of argument, or of narrative or poetic flow
general consultations
proofreading and copy editing (see relevant section above)
content and style editing (see relevant section above)
TRANSLATION
Spanish to English and English to Spanish. Translation of all kinds of texts, documents, and projects (see previous lists) in consultation with the author/s. The translation service presupposes that the material to be translated is in its final, definitive form, requiring no correction or editing. If the latter is not the case, we could combine our services as agreed during our deliberative process (see below).
---
RATES AND FEES
STANDARD RATES
Proofreading and Copy Editing: $ .18 / word
Content and Style Editing: $ .20 / word
Developmental Editing: $30 / hour
Translation: $ .22 / word
SPECIAL RATES (TO BE CONSIDERED ON A CASE-BY-CASE BASIS)
Activist, community, artistic, and social justice organizations and collectives
Small-scale non-profit organizations
Individuals with heightened economic needs
Discounts by volume
ADDITIONAL OR COMBINED FEES
Projects requiring rush delivery: + 25-35% of the project's total cost, based on the specific case, its volume, and the service/s required
Projects requiring more than one type of service. The combined fee will be determined on a case-by-case basis.
---
APPLICATION, DELIBERATION, QUOTE AND WORK PROCESS
Fill out the <<<<<APPLICATION FORM>>>>>, which includes areas to provide the following information:
Contact information
Type/s of material
Basic characteristics of the material
Type/s of assistance required
Estimated Work Schedule
Material for evaluation
Please make sure that your attached materials have the following characteristics:
font: Arial, Calibri or Times
size 12
double spaced
1" margins
spacing between paragraphs at 0pt
no line, section, or page breaks
If we do not need to specify or clarify anything related to your application, you can expect to receive a preliminary, free, and no obligation quote within the next 72 business hours. The preliminary quote will include a work calendar, as well as the partial (including a 25% deposit to begin work) and final disbursements of the total project cost.
Having reviewed the preliminary quote, if you wish to proceed, EEE will work diligently and in collaboration with you to make any necessary adjustments and to coordinate the team member/s that will take on your project. Based on our final agreements, EEE will prepare a final quote and put you in contact with the team member/s in charge of your project, who will begin their work once the deposit has been received. Our team member/s will hold with you the kind and frequency of communication that both parties deem appropriate and necessary to successfully complete the project. Partial and final payments will only be received through EEE's ATH móvil, PayPal and Venmo accounts, as well as in the form of a money order, for which the relevant information will be provided to you in due time.
If at any point during the agreed upon and approved work calendar you decide to withdraw the project, we will retain the initial deposit. The project tasks will continue as long as you successfully make the partial disbursements agreed on the final quote. Once the project has been completed, EEE will ask you to make the remaining payment, and will then send the final product to the email address included in your application form.
---
FOR CONSULTATIONS
If you can't find here the kind of assistance you need, or if you have any other questions, feel free to make a no obligation consultation by emailing beatriz.llenin@editoraemergente.com. You can expect an answer to your email within the next 72 business hours. 
---
OUR TEAM
BEATRIZ LLENÍN FIGUEROA
Associate editor at Editora Educación Emergente since 2009 and coordinator of the WordAddiction platform. She is also a freelance editor and translator. Writer, compañera, friend, comrade, gestora, walking body, and lover of live arts and animals. She holds a PhD in Literature from Duke University in North Carolina, USA, and has ample experience in proofreading, editing, and translation of scholarly, academic, and creative materials, as well as professional and creation-related documents, in both Spanish and English. She is the author of Puerto Islas: crónicas, crisis, amor (EEE, 2018) and the forthcoming Affect, Archive, Archipelago: Puerto Rico's Sovereign Caribbean Lives (Rowman and Littlefield, 2022). A list of her editorial and translation projects can be provided upon request.
CARMEN RODRÍGUEZ MARÍN
Editor and writer. From 2015 to 2017, she was the Coordinator of Non-Serial Publications at the Instituto de Cultura Puertorriqueña Press. She completed the Penguin Random House Certificado de Corrección de Estilo (2021) and the State University of New York at Binghamton's Certificado de Traducción Literaria y No Literaria (Inglés-Español) (2000). She also completed the La Nueva Gramática Española seminar offered by the Academia Puertorriqueña de la Lengua Española in 2010 and holds an MA in Spanish from the State University of New York at Binghamton (2000). She has vast freelance experience in proofreading and copy editing, as well as in content and style editing, of literary and nonliterary texts, and for over a decade she has worked as content creator for school textbooks and standardized tests. She currently teaches at the MA program in Creative Writing at the Universidad del Sagrado Corazón, and is also the author of the books of poems Salvahuidas (Erizo Editorial, 2013) and Encamadas (Trabalis, 2020), and of the book of microtexts cosmogonías y otras sales (Editorial Corpus, 2014 and EEE, 2018). A list of her editorial and translation projects can be provided upon request.
CLAUDIA BECERRA
Poet, co-editor of The Puerto Rico Review, and columnist of the Claridad newspaper's Será otra cosa section. She holds a BA in Hispanic Studies from the University of Puerto Rico at Río Piedras, and an MA and PhD in Latin American literature from Brown University. Her editorial work for The Puerto Rico Review and other media in Puerto Rico and the USA has had special emphasis on poetry, essays, translations, and scholarly articles. Her own creative work has been published in journals such as La pequeña (Puerto Rico), Rialta (Cuba), Lucerna (Peru), and América Invertida (USA), among others. In 2018, she published her first book of poems, Versión del viaje (Folium). A list of her editorial and translation projects can be provided upon request.
GUILLERMO REBOLLO GIL
Poet, translator, sociologist, and attorney. He is the author of several poetry, creative non-fiction, and scholarly books, such as Decirla en pedacitos (EEE, 2013), Todo lo que no acontece igual (EEE, 2015), Amigos en todas partes (EEE, 2016), and Writing Puerto Rico: Our Decolonial Moment (New Caribbean Studies Series, Palgrave Macmillan, 2018). In 2020, Ediciones Liliputienses published Informe de logros, a selection of his poetry. He has served as translator for bilingual editions of Cindy Jiménez Vera's and Sommer Browning's poetry, and has ample experience performing Spanish to English, as well as English to Spanish, translations of scholarly articles, op-ed pieces and legal briefs. He belongs to/with Lucas Imar and Ariadna Michelle. A list of his editorial and translation projects can be provided upon request.
LYDIA PLATÓN LÁZARO
Independent professor at UPR Cayey, translator, writer, and cultural promoter. She collaborates with Taller Comunidad la Goyco, a community collective, developing projects for peaceful co-habitation in the Machuchal neighborhood. Her publications include Defiant Itineraries: Caribbean Paradigms in American Dance and Film (Palgrave Macmillan, 2015), Ecos Huecos (La Impresora, 2021), and several articles about Dance and Performance. Her translations have been published by Brookline Books, Politics for the People, and several journals. She holds a PhD in Caribbean Literature from the English Department at the UPR, Río Piedras campus, and is a certified and experienced legal interpreter and translator. A list of her editorial and translation projects can be provided upon request.